WELCOME TO THE OFFICIAL WEBSITE OF THE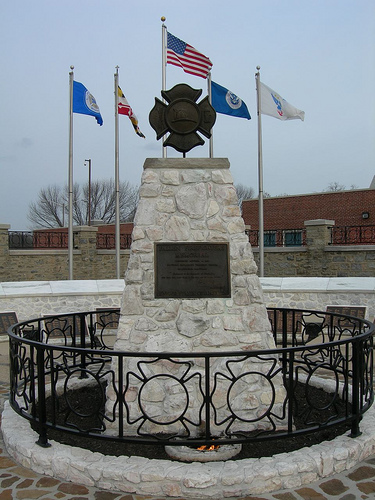 VIGILANT HOSE COMPANY
Home of the National Fire Academy
Six of Hearts Drawing
Frederick County's Original Weekly Game of Chance
Six of Hearts Jackpot
June 14th, 2021 - $53,000
Access is only available from the Main Street Museum entrance.
For online raffle chances or to purchase gun calendars visit our online store at store.vhc6.com
---
The support of the Greater Emmitsburg community and the entire national fire service has kept the Vigilant Hose Company strong since our founding in 1884. We are proud to have volunteer purchased and owned apparatus, protective clothing and all the tools and equipment to serve you. We are the principal Fire/Rescue service for the thousands of visitors and students to the National Fire Academy, Emergency Management Institute and the National Fallen Firefighters Memorial. We are the proud home to Mount St. Mary's University and Seminary and the National Shrine Grotto Lady of Lourdes. Please consider supporting our mission by donating to the Vigilant Hose Company.
GUN CALENDAR WINNERS FOR 2021 CLICK BELOW
White Gun Calendar Winners Blue Gun Calendar Winners
DEMAND WAS SO HIGH FOR CALENDARS THIS YEAR THAT WE SOLD OUT OF THE FIRST BATCH THAT HAD A WHITE BACK PAGE. WE SOLD A SECOND GROUP OF CALENDARS BECAUSE OF THE DEMAND AND THE BACK PAGE ON THOSE CALENDARS ARE BLUE. THAT IS WHY YOU HAVE TWO WINNING LISTS EACH MONTH FOR 2021.
Please allow 15 days from the end of each month for winners to be updated. Letters to winners are sent out by the end of the winning month. Due to substantial delays with the USPS letters are taking longer than normal to reach mailboxes.
VHC Easter Seafood Bonanza Returns

President Tom Ward, April 02

Vigilant Hose Company Volunteers to host annual Seafood Bonanza.

The Vigilant Hose Company (VHC) is pleased to announce the return of our annual Easter Seafood Bonanza. The yearly event was cancelled in 2020 due to operating and gathering restrictions as a result of Covid-19. Our 2021 sale will be held on Thursday, April 1st and Friday, April 2nd from 11AM - 6PM. The event will be held from our ... (Full Story & Photos)

Update to BINGO Events

President Tom Ward, November 12

With new guidance and regulations related to the indoor gathering of people, VHC BINGO events are herby suspended until further notice. We stand by our commitment to our mission of promoting a safe and healthy community.

Since VHC has returned to our operations this summer our supporters have been nothing short of amazing. We gained countless new players who comment on how much fun, enjoyable, ... (Full Story & Photos)

2021 Sportsman's Calendars on Sale Now

President Tom Ward, September 08

The Vigilant Hose Company in partnership with the Brunswick Volunteer Fire Department are pleased to announce the sale of our 2021 Sportsman's Calendars.

For a $50 donation the calendars provide two chances to win a firearm or cash prize daily, each day of the year. All numbers coincide with the evening Maryland pick four lottery number. The twelve days of Christmas are a $1,000 cash prize daily. ... (Full Story & Photos)

VHC Volunteers Place Quick Stop on House Fire

President Tom Ward, May 02

On May 2nd, shortly after 1630hrs Vigilant Hose Company units, along with numerous mutual aid companies were alerted for Box Alarm 6-1 for a reported House Fire in the 200blk of DePaul Street in Emmitsburg.

First arriving Engine 61 found a two story single family home with smoke showing from the alpha side of the structure. C6-2 (AC Brotherton) established the DePaul Street Command and requested ... (Full Story & Photos)

VHC Participates in Rural Water Supply Drill

Secretary Tom Ward, October 19

On Saturday, October 19th members of the Vigilant Hose Company along with other Battalion V (the Northern Frederick County Companies) along with other Frederick, Adams and Franklin County PA organizations participated in a rural water supply farm that was held at the Catoctin Mountain Orchards.


This training opportunity allowed VHC and allied mutual aide partners to get a solid day's training ... (Full Story & Photos)