WELCOME TO THE OFFICIAL WEBSITE OF THE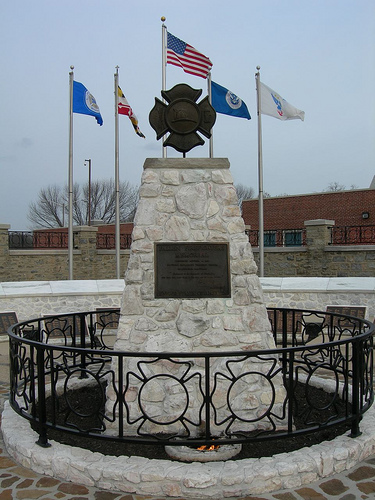 VIGILANT HOSE COMPANY
Home of the National Fire Academy
Six of Hearts Drawing
Frederick County's Original Weekly Game of Chance
Six of Hearts Jackpot
January 31st, 2022 - $7,200
Six of Hearts tickets are only available from the station. Doors are open daily 6AM - 8PM, please access only from the front of the fire station. You are welcome to bring additional blank tickets back home or to your place of business to sell to friends and family for easy drop off!
For online raffle chances visit our online store at store.vhc6.com
---
The support of the Greater Emmitsburg community and the entire national fire service has kept the Vigilant Hose Company strong since our founding in 1884. We are proud to have volunteer purchased and owned apparatus, protective clothing and all the tools and equipment to serve you. We are the principal Fire/Rescue service for the thousands of visitors and students to the National Fire Academy, Emergency Management Institute and the National Fallen Firefighters Memorial. We are the proud home to Mount St. Mary's University and Seminary and the National Shrine Grotto Lady of Lourdes. Please consider supporting our mission by donating to the Vigilant Hose Company.
GUN CALENDAR WINNERS FOR 2021 CLICK BELOW
White Gun Calendar Winners Blue Gun Calendar Winners
DEMAND WAS SO HIGH FOR CALENDARS THIS YEAR THAT WE SOLD OUT OF THE FIRST BATCH THAT HAD A WHITE BACK PAGE. WE SOLD A SECOND GROUP OF CALENDARS BECAUSE OF THE DEMAND AND THE BACK PAGE ON THOSE CALENDARS ARE BLUE. THAT IS WHY YOU HAVE TWO WINNING LISTS EACH MONTH FOR 2021.
Please allow 15 days from the end of each month for winners to be updated. Letters to winners are sent out by the end of the winning month. Due to substantial delays with the USPS letters are taking longer than normal to reach mailboxes.
Sportsman's Calendars for 2022 are SOLD OUT. You may call the fire station at 301-447-2728 and ask to be placed on a waiting list in the event any scattered calendars may surface.
2022 Sportsman's Calendars Sold Out

President Tom Ward, December 22

With the incredible support of our members, local businesses and friends the Vigilant Hose Company is excited to announce that our 2022 Sportsman's Calendars are SOLD OUT.

We are grateful for all those who continue to support our organization during these crazy economic times. Your support allows us to continue our mission of service to Emmitsburg and surrounding communities. Too all our sellers ... (Full Story & Photos)

VHC Eliminates $1.3M in Debt

President Tom Ward, November 30

At the October 2021 monthly meeting of the Vigilant Hose Company, the membership voted upon a recommendation from the organization's Board of Director's to pay off the remaining mortgage on the Fire Station located at 25 W. Main Street and the balance remaining on the loan for our recently purchased Engine 61. The total debt removed from our books was over
$1.3 million dollars was officially completed ... (Full Story & Photos)

VHC Sportsman Calendars on Sale Now

President Tom Ward, October 07

The Vigilant Hose Company is pleased to announce the sale of our 2022 Sportsman's Calendars.

For a $50 donation the calendars provide two chances to win a firearm or cash prize daily, each day of the year. All numbers coincide with the evening Maryland pick four lottery number. The twelve days of Christmas are a $1,000 cash prize daily, as are the first four days in July. ALL prizes with VHC's ... (Full Story & Photos)

VHC Six of Hearts Jackpot Surpasses $200,000

President Tom Ward, August 04

Emmitsburg, MD: The Vigilant Hose Company is excited to announce that the popular Six of Hearts raffle has exceeded a jackpot of $200,000. The weekly game of chance is drawn every Monday at 7PM from the Fire Station located at 25. W. Main Street., Emmitsburg.

The Monday, August 9th 2021 drawing is currently at a jackpot amount of $212,000. Earning your chance at the jackpot is easy. Stop by the ... (Full Story & Photos)

VHC Six of Hearts Jackpot Reaches $100,000

President Tom Ward, July 05

Emmitsburg, MD: The Vigilant Hose Company is excited to announce that the popular Six of Hearts raffle has reached a jackpot of $100,000. The weekly game of chance is drawn every Monday at 7PM from the Fire Station located at 25. W. Main Street., Emmitsburg.

Earning your chance at the jackpot is easy. Stop by the station anytime daily from 6AM - 8PM and purchase your chance. Each entry is only ... (Full Story & Photos)