Our History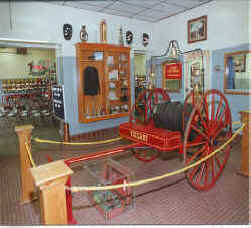 [VHC's Museum] The history of community-based fire protection in greater Emmitsburg can be divided into five distinct periods.
First, from the beginning of the community in 1757 to the purchase of fire equipment in 1840; the best label for these 83 years is "The Bucket Brigade Period". When the alarm sounded, everyone grabbed a bucket and ran to form a line from the well in the square to the fire. Men would pass filled buckets, women the empty ones. Every able-bodied person was expected to fight fires, and shirking of this duty brought notices like this one dated May 25, 1829 - "(Name), you are hereby requested to present yourself at the Engine House in Emmitsburg, on the 4th Saturday of May, June, July and August, precisely at two o'clock p.m. with buckets and other requisites for company training."
The second period began with the purchase of an out-dated suction pump in 1840, and a town ordinance requiring all men to join the fire company. There was a fine levied for non-compliance. Such subscription produced 141 members. A hand-pulled hose cart, that is now on display in the fire station museum, carries hose from this period. Made of riveted leather, this hose is the first type used in the United States, and a piece of it is preserved in the Smithsonian Institution in Washington, DC. But the problem of this period, was water supply. The lack of water, plus increased population and housing made this 44 year period a fire-disaster in Emmitsburg. In 1845, the Otter Hotel, located on the southwest corner of the square, burned. In 1848, the Elder and Taney Warehouse, now located where the Lutheran Parish House now stands, burned. This fire nearly destroyed the church itself, which is the oldest non-residence building in the community. And on June 15, 1863, fifty buildings northeast of the square were consumed in what James Helman called "The Great Fire". He writes in his history: "Oh, the desolation a fire makes; most of the people lost their all, and never recovered. Money was sent from the cities to aid the poor."
The carefulness which protected the community in it's early years, was no longer a viable safeguard. A new weapon for fighting fires was needed in Emmitsburg. That new defense came in 1884, when water from a newly built reservoir in the hills west of town was piped along the streets and fire hydrants were installed. It was also in 1884 that the Vigilant Hose Company (VHC) was founded. This third period of 45 years records only one major fire loss-the Presbyterian Church on August 28, 1902. The VHC became a legal entity in 1910 and an existing building and property at the site of the present fire house were purchased in 1920, for $4,500.
The fourth period continued from 1929 to the late 1980's. By far, it was the most productive period in the development of the fire company, both in finance and capability. It began with the purchase of the first motorized engine in 1929, for $3,200. That unit is now the property of neighboring Rocky Ridge Volunteer Fire Company. There were subsequent purchases of equipment that included: a 1945 Ford engine for $7000. This unit was placed out of service in 1982, but it remains in the hands of a local resident; a 1951 Ford engine for $15,000. This engine was sold in 1977; a 1961 Ford with a 500 gpm front mount pump and a 500 gallon tank for $2,000; a 1971 Ford with a 750 gpm front mount pump and 1,000 gallon tank for $3,400; a 1968 light rescue truck for $7,000. This unit is now a brush unit since the purchase of a heavy-duty rescue unit; a 1977 Ford/Pierce engine with a 750 gpm mid-ship pump and 950 gallon tank for $65,000 (the 1961 and 1977 units are now gone); a 1978 Ford/Swab heavy-duty rescue squad that carries a complete array of rescue and fire-fighting equipment that includes a Hurst Rescue Tool and Hurst Ram; a 1973 International/Pierce mini-pumper 300 gallon mid-ship with 200 gallon tank, sold in 1988; and a 1989 Pierce custom-built, triple combination, Class A pumper (the first of it's kind in department history) was placed into service at a cost exceeding $204,000. Known as Engine 63, it was the first totally enclosed engine ever operated by the department, owing to a commitment to improved firefighter safety. It was during the last decade of this fourth period of department history that women became actively involved in operational emergency response and members began laying the foundation for future improvements yet to come.
The fifth and current period began with the process of aggressive major organizational, facilities and equipment improvements started in the late 1980's and which culminated in April 1995, with the dedication of a major renovation project to Fire Station No. 6 and the placing into service of "Tower 6", a 1995 100' Pierce Aerial Platform. It was also during this period that a new multi-purpose brush unit was was placed into service at a cost of $100,000, which increased VHC's emergency medical service assistance capabilities.
Tower 6, at a cost of over $535,000, brings about a new era of emergency response capabilities unlike anything in the department's inventory previously. The unit carries water, a pump, hose, and a wide assortment of specialty tools for mitigating emergencies of all kinds.
Following a highly successful 3-year long "Campaign for Community Safety", substantial facility renovations have occurred at a cost of more than $440,000 which allowed for more operational areas, offices, storage and recreational space. Such is occurring as a result of generous community-wide support.
In Spring 2017 members of the Vigilant Hose Company began discussions with the Emmitsburg Volunteer Ambulance Company (EVAC) to merge the two organizations into a single Fire/Rescue Department. On January 1, 2018 the EVAC was merged into the VHC and all Fire/Rescue/EMS services to the community are now provided by and housed at the VHC. With the merger the VHC gained the former EVAC station and property located on Creamery Road in Emmitsburg. This facility is now the Vigilant Hose Company Activities Building and hosts VHC's events, feeds an weekly BINGOs.
Today, preserving the excellent tradition of community service are over 100 active members, both men and women. Additionally, nearly 50 others are involved as auxiliary, social, life and honorary members who likewise continue to provide a broad range of critically important support activities.
History of the Vigilant Hose Company Fire-Police
"Protecting the Firefighters, Helping the Police, Serving the Community"
Believed to be the first "Fire-Police" unit in Frederick County, Maryland, the Vigilant Hose Company (VHC) Fire-Police can track it's establishment as far back as the 1920's when the VHC had a group of men then known as "Police" that had essentially the same duties as today's VHC Fire-Police, the all important mission of traffic control, but who also helped the Town Magistrate look for horse thieves and drunk and disorderly people in the Town of Emmitsburg. Compounded greatly by today's vehicle speeds, ever-increasing traffic volume, and unfortunately impaired drivers this under-valued yet critical component of the department has no doubt prevented many accidents over the decades and very likely saved lives, too.
File-Police units are known to exist in at least 10 states with states like Pennsylvania, New York, Connecticut, Delaware and New Jersey likely having had such units longer than others. Fire-Police exist only in select portion of the State of Maryland but given Maryland's proximity to the Keystone State it's no surprise that a northern border Frederick County department would be the first unit to evolve in our county. In 1949, VHC's Paul Keepers would work to help organize the concept across Frederick County.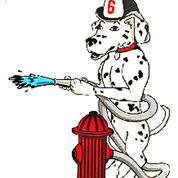 Mr. Keepers served as Secretary of the Frederick County Fire-Police Association and also had served as President of the Adams County, Pennsylvania, Fire-Police Association, too. Right up until his death in recent years he still helped out and when his health began to fail, he helped via use of his Citizens Band Radio - forerunner of more professional radios now used by the department's Fire-Police personnel which includes men and women.
VHC Fire-Police operate jointly under direction of the Fire Chief and also under oversight of the County Sheriff and have always worked hard to maintain positive working relationships with local, county and state law enforcement agencies as well as others involved in public safety, too. During 2008, there were 118 members of the Frederick County Fire-Police Association with 12 of those members serving with the Vigilant Hose Company.
Included among the vital functions performed by Fire-Police members are:
~ Protection of Fire Department and EMS personnel and equipment at emergency scenes.
~ Traffic Control to maintain the safe flow of traffic around an emergency scene as well as to allow quick access to the scene for emergency vehicles and personnel.
~ Crowd Control at emergency scenes, training exercises, funerals, parades, fairs and other fire company events.
~ Security of unsafe areas as well as property or evidence at emergency scenes.
History of Vigilant Hose Company Youth Programs
"Continuing the Legacy"
The purpose of the VHC Explorer program is to introduce interested young persons to the nature and responsibilities of the emergency services by both formal and informal experiences across the broad range of duties of First Responders:
~ Fire Suppression - firefighter orientation & safety practices, fire behavior, building construction, firefighter personal protective equipment, portable fire extinguishers, rescue, vehicle extrication, ropes & knots, forcible entry, ground ladders, aerial ops, ventilation, water supply, fire hose, fire streams, fire control, emergency management, loss control, fire cause determination, radio communications, incident command systems, wildland incidents, standard operating procedures, fire detection & alarm systems, fire alarm systems, natural gas leaks, smoke & carbon monoxide detectors, etc.
~ Emergency Medical Services - the role of emergency medical technicians & paramedics, ambulance & helicopter operations, patient assessment, vital signs, lifting & moving patients, airway management, cardiopulmonary resuscitation, general pharmacology, respiratory emergencies, cardiovascular emergencies, automated defibrillation, altered mental status, allergic reactions, poisoning/overdose, diabetes, environ-mental emergencies, behavioral emergencies, pre-hospital childbirth, bleeding & shock, soft tissue injuries, musculo-skeletal injuries, head/neck/spine injuries, pediatric emergencies, etc.
~ Fire and Injury Prevention – one of VHC's most important services, includes learning about the full range of prevention initiatives available to help educate individuals and businesses about how to be safe at home, work, school and play.
~ Large-scale disaster preparedness – given that First Responders play key roles during and following catastrophic events they also play key roles prior to such events via planning for region-wide events of major consequence, too. Knowing in advance how to work effectively with a broad range of agencies and organizations is critical – it's where "preparation meets opportunity." Learning about how to be prepared to accomplish successful mitigation measures needed during disasters and region-wide emergencies from an all-hazards / all-risk perspective is the key to assuring the best possible outcomes.
Several youth programs have been sponsored by the department over the past 40+ years. The VHC Explorers Post of today has been highly successful in engaging young men and women of the greater Emmitsburg community in learning about aspects firefighting, rescue and emergency medical work with the goal to having them continue their involvement in the emergency services field during their adult lives plus be responsible and productive citizens, too.
Beginning back in the late 1960's, the VHC sponsored Scouting-related Explorer groups in photography that also encompassed kayaking, too, while also initiating junior firefighters developmental programs, too (they were co-ed, too). Later, in 1980's and early '90's, the department sponsored additional efforts via a Junior Firefighters program - a predecessor to the present Explorer initiative. And, several VHC youth members have also successfully participated in the Frederick County High School Fire Cadet Program, too.
The department has always taken pride in seeing many participants of its youth-focused initiatives continue on to serve with distinction in the fire and emergency services fields in both volunteer and career positions. Many of them continue to serve in the fire service, as well as in law enforcement positions, too, here in the region and elsewhere. Today, VHC continues to support 2 initiatives for young men and women in the greater Emmitsburg area:
Fire Explorer Post for ages 14-22 (some elect to stay involved even after joining the regular department at age 18).
Junior Fire Investigators program for ages 10-13.
The Vigilant Hose Company Bell
Yesterday's Vigilant Hose Company (VHC) firefighters knew that when they heard the ringing of the Fire Bell atop this building that someone in the community was in immediate need of help…
In a period when only a very few telephones existed, a small number of trusted members of the community had "Fire Phones" in their homes and businesses. When a call for help was received, one or more of them would quickly rush to the "Fire Hall" to sound the alarm. Upon hearing the Bell, Vigilant firefighters of that era would quickly assemble here in order to then dash out to render assistance.
From this exact location, the actual rope that was used to sound the Bell extended upward more than 40 feet. It was during a major facility alteration and expansion project, completed in the spring of 2008, that a pipe above here was finally removed which years prior had encased the Bell's rope.
Many decades have passed since the Vigilant Fire Bell was last rung for an emergency and while reference is made in a 1933 VHC Audit for an expenditure of $55.00 for "a copula to house the Alarm Bell" its actual age is not precisely known.
As a proud tribute to the Bell, and the important role it played in the
Town's history, the men and women of the department arranged
to have it prominently displayed in a specially designed inset
of the front wall of the stationhouse in 1995. It remains
there today, ever vigilant, watching over the town.
Vigilant Hose Company
Celebrating Newly Expanded and Renovated Headquarters Facilities
Just in time for its 125th Anniversary Year, the Vigilant Hose Company (VHC) of Emmitsburg has completed another bold initiative aimed at increasing the community's defenses against fire, other daily emergencies and even an unlikely catastrophic disaster. That effort is being Officially Dedicated as part of the official 125th Anniversary Celebration on October 25, 2009.
Namely, at a cost approaching nearly 2 million dollars, an effort has been underway for some 3 years to significantly expand, renovate and remodel the fire department's facilities. The original fire house structure (the center portion), at 25 West Main Street, was built about 1804 and later served as the community's Elementary School and then was the Home of the Weekly Chronicle (1906-1922).
The VHC moved into the current building in the early 1920's from its former location at 115 North Seton Avenue, which had been known for several decades as the "Engine House." The North Seton Avenue Engine House actually pre-dated the creation of the VHC which came in 1884. A year earlier, 1883, saw the establishment of the Emmitsburg Water Company to bring water service to the growing community and included needed fire hydrants, too.
Various means of firefighting locally dates back to the very establishment of the community itself in the late 1700's when every able-bodied male, upon learning of a fire in town, was expected to report with their fire buckets to assist in transporting water to the fire via bucket brigades from the famous old the Town Well located in Town Square. Women and children helped by carrying empty buckets back to the well.
The latest expansion / renovation project resulted from outstanding community support of individuals, families, businesses, churches, governmental agencies and community service groups, too. The effort included the removal of a more than 200-year old -- and very inadequate structure -- on the west side of the fire station complex. The former west-most structure failed to meet the needs of the company / the community (plus, due to age, had become structurally unsafe and was deemed to be unsound and unsalvageable). That demolition part of the project allowed for the construction / renovation of facilities that will help meet current and projected future needs for years to come. To undertake this activity, and just as has been the case for 125 years, Vigilant Hose Company volunteers have taken on quite a financial burden to insure the ability to help others in their time of need.
The previous facility expansion, 15 years ago in the early / mid-1990's, came when VHC facilities were upgraded via multiple simultaneous efforts that included building expansion and renovation on the east side and center portions of the complex plus the addition of needed emergency response apparatus, too. Many in the community will recall those unprecedented actions by the fire company in the mid-90's that obligated the department to more than a million dollars in debt that also included the purchase of the community's first-ever aerial apparatus, "Tower 6." Station enhancements back then also included the installation of a fire sprinkler system because – believing you should practice what you preach -- it was simply the right thing to do. Those efforts have indeed benefited residents and businesses alike in the greater Emmitsburg area.
The community can be assured that the men and women of the VHC will again be working extra hard to pay off this latest significant debt, too. Forever grateful for the unending strong community-wide support, a hallmark of Emmitsburg area pride, coupled with the dedication of Vigilant Hose Company members -- together will continue to assure all of the many more great things to come.
The New Complex
-Total Cost of Project including demolition and construction (not including new equipment & furnishings, etc.): $1.7 Million
-Date of Occupancy: November 2008
-Total Square Footage: 9,085 square feet
- Architectural Firm / Architect: Proffitt and Associates, Frederick, Maryland; Michael Proffitt, Architect
-General Contractor: Rockwell Construction Company, Inc., Mercersburg, Pennsylvania; Joseph Sabol, Representative
-Special Features / Capabilities: handicapped-accessible public space - including 2 handicapped restrooms, fully fire sprinklered (meets Life Safety Code and all state / county building & fire codes), physical fitness rooms, a new diesel-powered emergency generator (that can power the entire building for up to 7 days), a bunkroom that can accommodate 11 persons, expanded administrative and operational offices, enhanced station security (computerized key-fob controlled), and space for future expansion needs.
-Community Benefits: ability to temporarily house individuals / families displaced by a major community-wide emergency, in-station accommodations for personnel staffing (allowing for more immediate response to emergencies), maintained the Victorian architectural style to blend in with the historical appearance of the Town's Main Street, environmentally friendly.
Building Layout
~ Basement Level: fitness room (2), laundry room, storage - including food preparation items, Auxiliary and Explorer supplies; Mechanical – walk-in refrigerator and freezer; served by elevator.
~ First Floor: offices for administrative officers & line officers, lounge area, dining area, staff kitchen, supplies storage; served by elevator.
~ Second Floor: bunk rooms (2), locker rooms, information technology (IT) room; served by elevator.
~ Third Floor: (Attic) storage – including community prevention / safety materials, historical items; Mechanical – air handling equipment.
Visitors are always welcome at the Vigilant Hose Company // www.vhc6.com